What a crazy week. It all started Saturday with the Collegiate Peaks 50 Trail Run. I'd run most of the course and while it's not technical, there is a fair bit of climbing and a 12 hour cut-off. The weather was fantastic for the starting 72 runners. I finished the first half in 5:15 which put a lot of pressure on the 2nd half. I fell behind the aid station cut offs mid way through the 2nd loop but after sprinting the last 6 miles, I finished DFL in 24th place, 2 minutes and 32 seconds before cut-off.
strava id=" 2343660669 " name="false"
I added some pictures from the race that Tracy had on her phone.
The forecast called for a Winter Storm Warning on Wednesday so I decided to make vegan lasagna. I made far too much so I gave some away and froze the rest.
Our neighbors, who are also from Austin, were in town so Wednesday night we decided to drink whiskey at DeerHammer. The snow started while we were walking there.
This is what it looked like walking home 2 hours later. The snow was really wet and heavy and the forecast called for it to snow all night.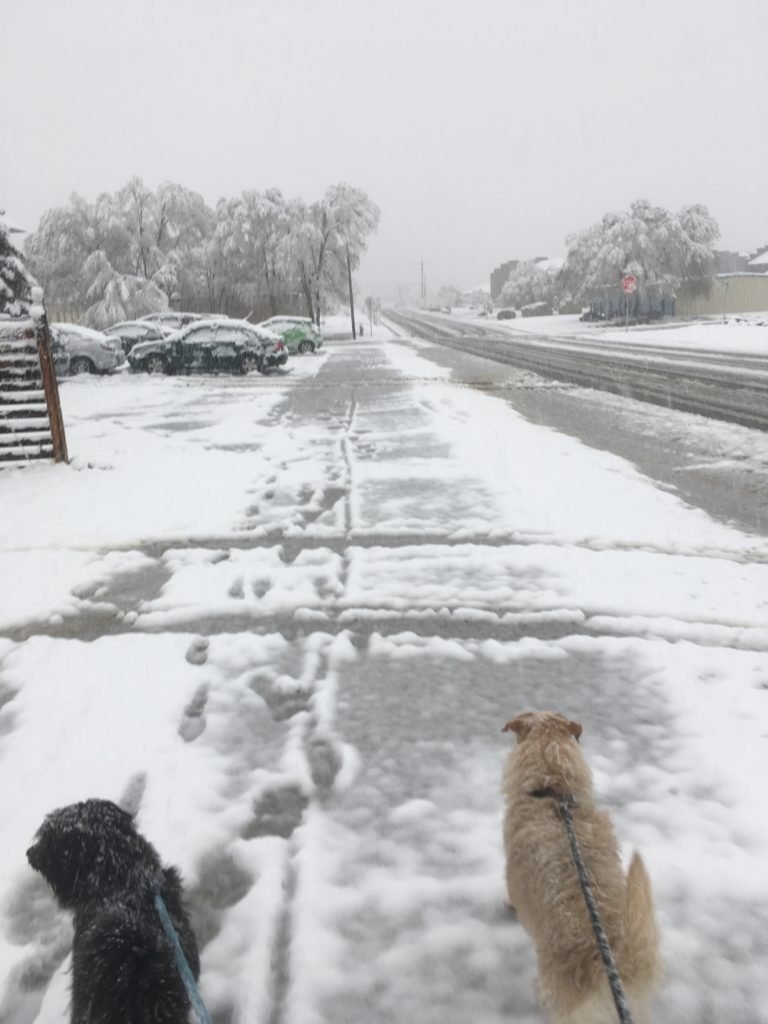 The next morning, it looked like in addition to the snow, high winds had ripped through. The trees were sagging with a lot of broken limbs and some even completely down. There wasn't any wind, just really wet heavy snow. About 8-10 inches came down on May 9th.
The dogs didn't know what to think. They seems to love running in the snow.
These trees are the primary shade for the dog park. They were sagging so much under the weight of the snow that I thought they were going to come down completely. Luckily, they didn't fall over, but the picture below this one shows how many limbs have been snapped.
On Friday the snow finally stopped and Mt. Princeton poked out from behind the clouds.