On the first Friday in August, I ran the High Lonesome 100.  Since the course travels over 5 passes for a total of 23,000ft of climb, my goal was to finish in 35 hours.  The average elevation of the race is 10,433ft reaching a high point of over 13,000ft.   Over the past few months, I've hiked almost all of the course.  My race card is below.  The sections in yellow indicate that I can have a drop bag and light blue means that my crew can meet me.
It was a perfect morning and the forecast was for light rain in the afternoon.  My only worry was that Saturday was going to be hot.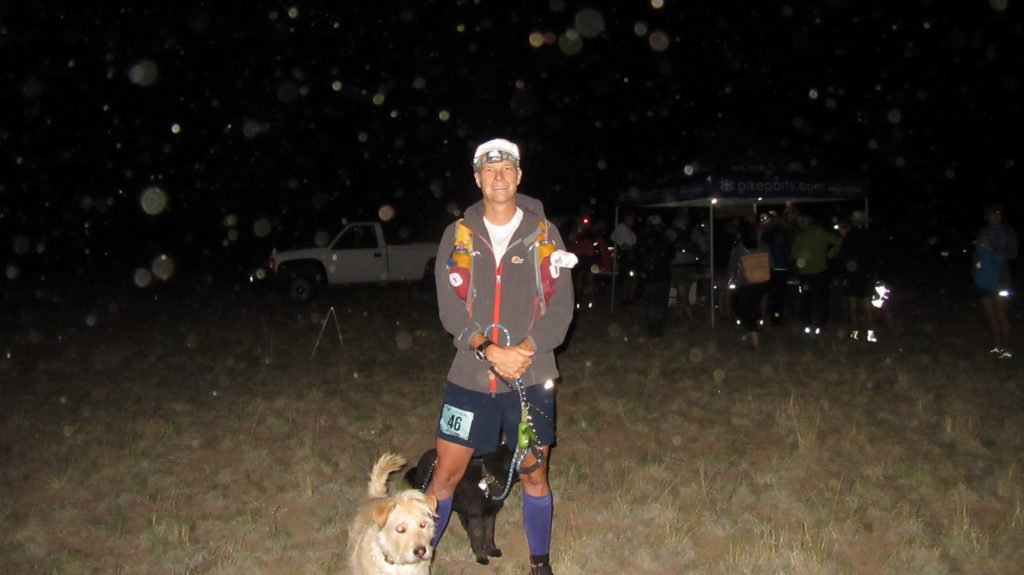 Tracy and the dogs were there to see me off.
The race started at 6am sharp.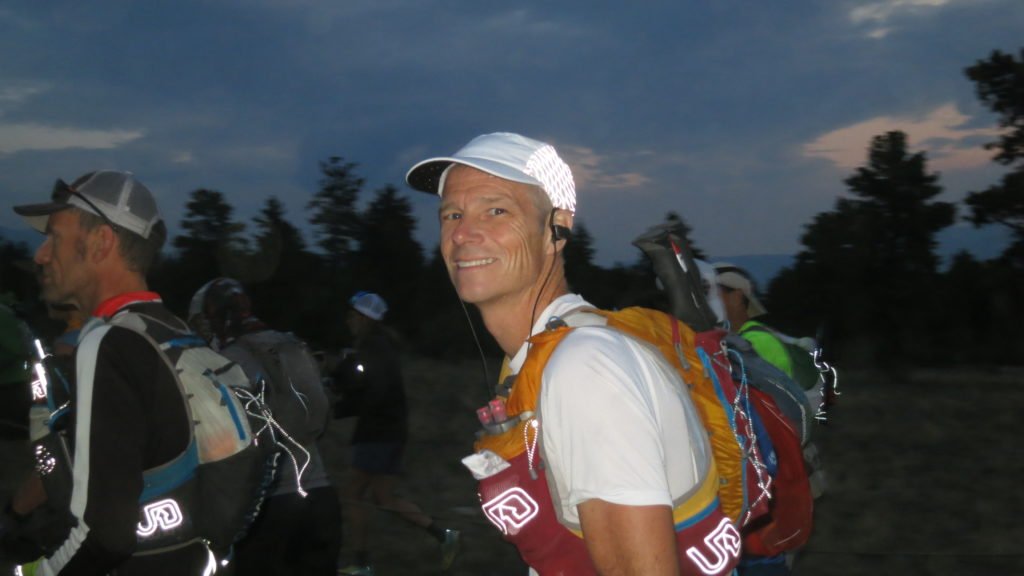 I came into the first aid station in 1:26 against a predicted 1:45.
A quick bite to eat and a coke and I've off for a 4,000ft climb up to the high point of the race on the shoulder of Mt. Antero.
The climb follows Little Browns Creek up a tight gulch to above treeline.  It then drops down a highly trafficked 4wd road that I hadn't run before, nor do I want to again.  Since it was Friday, there was a lot of traffic, but it was an incredible 5 mile downhill.
I reached St. Elmo aid station, over 90 minutes ahead of schedule.  I now had to climb Law's pass to Cottonwood where I'd meet Tracy.
A storm started rolling in so it got a little cold in the wind.  Once I cleared treeline, it started to rain.
I made it to Cottonwood 1:50 ahead of schedule and unfortunately, I beat Tracy there by 6 minutes.  A nice couple relayed my schedule to her and took the picture below of me.
I turned around and headed over Law's pass back to St. Elmo.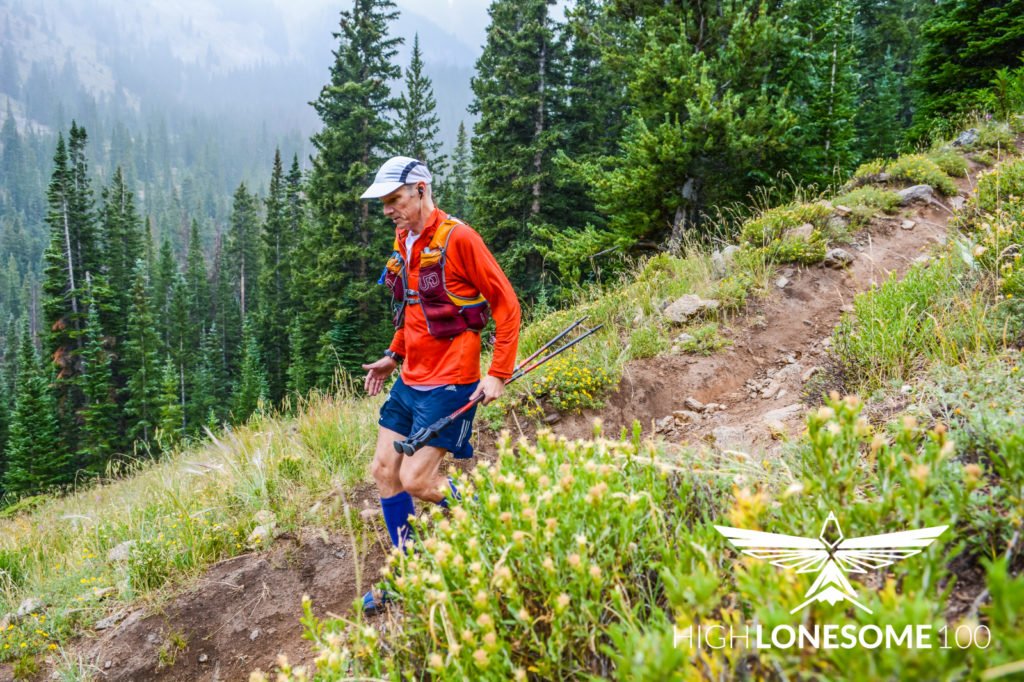 Once in St. Elmo, I had to traverse about 6 miles of exposed ground above treeline.  I rolled into the halfway point at Hancock, 2 hours ahead of schedule.  Tracy was waiting with a kiss and I got to pick up Mike to pace me through the night.  Mike and Tina are in the picture below waiting for me to come into Hancock.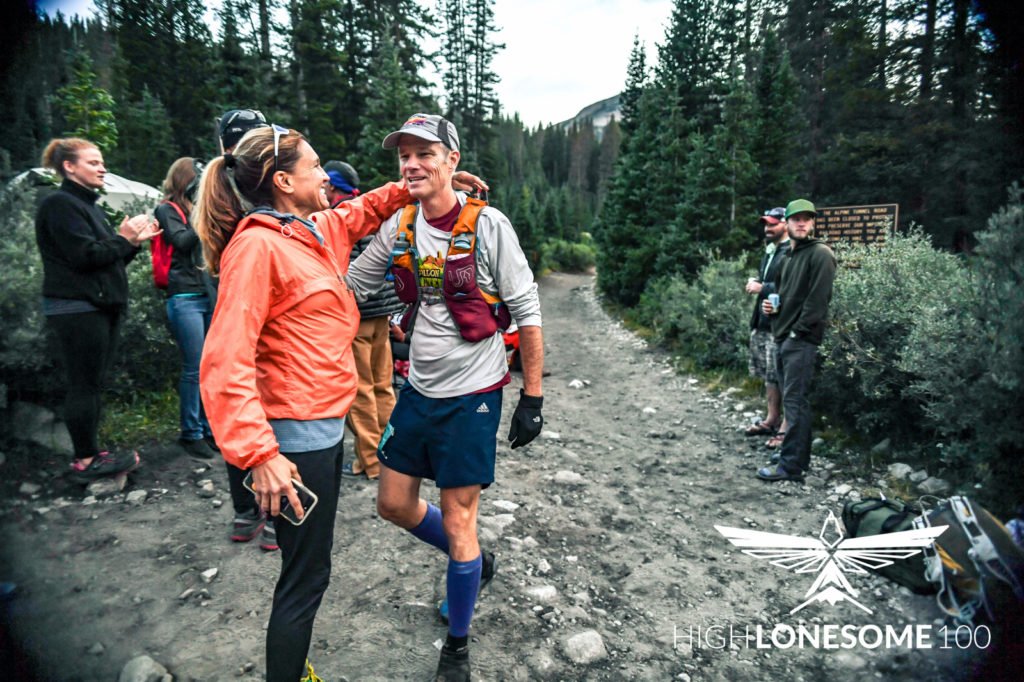 Once leaving Hancock, we had to climb Hancock Pass, descend into the Middle Fork, then climb 3,000ft to Chalk Creek Pass, and finally traverse the Monarch Crest into the store parking lot at Monarch Pass.  It was a tough night of climbs, but the weather held and we made it to the parking lot 3 hours ahead of schedule.  There I picked up Mark to take me the next 20 miles which are considerably more flat and at a lower elevation.
I had a very dedicated crew.  All of them turned up at 4:30am to meet me in a freezing parking lot.  From left to right, Mark, Danielle, Mike, and Tina.  I couldn't have done it without them.
This section turned out to be the hardest for me since there are a lot of up and downs and the temperature climbed into the 80's.  It doesn't sound hot for a guy from Austin, but when the sun beats down on you on the dry Colorado Trail, you bake.   I met Tracy and the rest of the crew at Raspberry Gulch still an hour ahead of schedule.
Tracy took me home for the last 8 miles.
I crossed the finish line 70 minutes ahead of my plan.  A storm started blowing in and the wind was so strong it had knocked the sign down.
I was rewarded with another kiss.
Out of 100 starters, I finished in 43rd place.  It was my first 100 that I finished in the first half.  My Strava read out is below.  Since my watch was the longest battery setting the pace and moving time gets messed up.  The distance and elevation gain are close to accurate.
WP Strava ERROR 401 Unauthorized - See full error by adding
define( 'WPSTRAVA_DEBUG', true );
to wp-config.php